diaCRITICS managing editor Julie Thi Underhill comments upon the practice of self-immolation and the political suicide of Tạ Phong Tần's mother, Bà Đặng Thị Kim Liêng, before reprinting an article about the circumstances surrounding her July 2012 death. This piece was posted just eleven days before the death of Malcolm Browne, who'd captured Thích Quảng Đức's famous 1963 self-immolation photo, which opens the piece.
Thích Quảng Đức in 1963, photographed by Malcolm Brown
Whenever I hear that someone has set him/herself on fire, I always remember the Mahayana Buddhist monk Thích Quảng Đức, who self-immolated on 11 June 1963 in a busy Sài Gòn intersection to protest South Vietnamese president Ngô Đình Diệm's widespread religious repression against Buddhists. Since I was born in the U.S. thirteen years after the death of Thích Quảng Đức, I'd learned very little about his historically-pivotal suicide before visiting the Thiên Mụ pagoda in Huế, which houses the Austin car that drove him to that intersection in Sài Gòn—the car and the suicide made famous by distinguished journalist Malcolm Brown's eerie photograph of the burning monk sitting perfectly still and upright in a fierce cloud of fire and smoke. Later, in a rare documents archive at Cornell University, I studied sequential photographs of the self-immolation and the display of Quảng Đức's heart. Only then did I realize that his heart had remained intact and unburned despite both self-immolation and cremation, a symbol of his apparent piety and purity, according to Buddhists. Chapter 23 of the Lotus Sutra, an important holy book for Vietnamese Buddhists and other Mahayana Buddhists, seems a primary source for the early origins of the idea of self-immolation. This chapter speaks to a follower's desire to make their entire lives an offering to the Buddha, including lighting himself or herself on fire in order to bring attention to the suffering of others.
Despite this history of self-immolations in Mahayana Buddhist tradition, an elderly monk's public and political suicide in 1963 was not only the first in a series of self-immolations by members of the Buddhist clergy in South Việt Nam, it was also the first globalized self-immolation. Overnight, Malcolm Browne's photo drew international attention to situation for Buddhists under Diệm. "Almost immediately, huge demonstrations began to develop that were no longer limited to just the Buddhist clergy, but began to attract huge numbers of ordinary Saigon residents," Browne later remembered in the interview. From the publication of that photograph across front page papers around the world, sending shudders all the way to the White House, a "rebellion" began that eventually led to the coup d'état and murder of the U.S.-backed Diệm, along with his brother. Over 3,000 subsequent self-immolations have followed Quảng Đức's, including Norman Morrison's death outside the Pentagon office of Defense Secretary Robert McNamara in 1965, an incident deeply impacting the U.S. lawmaker, confessed years later in his memoirs and in the insightful Errol Morris documentary The Fog of War. A series of Tibetans have also self-immolated in protest of Chinese rule in Tibet, including quite recently.
As my longtime friend Wm. Howell puts it, "Sometimes it can only be said with the body." To this day, public suicides-by-fire still have the capacity to enact enormous social awakenings and changes, including the ongoing revolts across the Arab world, largely sparked by the self-immolation of Tunisian market trader Mohamed Bouazizi in December 2010. In this sense, an individual choosing to set him/herself alight can draw sharper attention to a particular injustice than through any other means, and this heightened focus upon social ills can galvanize transformations heretofore unimaginable. On 30 July 2012, 64-year-old Bà Đặng Thị Kim Liêng immolated herself in Bạc Liêu then died en route to the hospital in HCMC. Nearly fifty years after Thích Quảng Đức's demise, Bà Đặng Thị Kim Liêng chose the same method of suicide to openly protest the imprisonment of her daughter Tạ Phong Tần, a former police officer arrested in September 2011 for blogging about governmental corruption in Việt Nam, including police abuse and violations of human rights. One week in advance of her daughter's trial, and after reportedly suffering harassment and intimidation since her daughter's arrest, Bà Đặng Thị Kim Liêng approached a government office and set herself ablaze to protest her daughter's unfair imprisonment. Although the government-run media did not report upon Bà Đặng Thị Kim Liêng's political suicide, the news and images circulated quickly around the world, as they did in 1963 after Thích Quảng Đức's own death by fire. On August 1, the United States called on Việt Nam to free the three detained bloggers, saying that the U.S. is "deeply concerned and saddened" by Bà Đặng Thị Kim Liêng's suicide.

Mourners at the side of Bà Đặng Thị Kim Liêng
Such shocking public suicides represent the ultimate form of protest, with the potential to incite change or even revolution, as we see in the Middle East and North Africa. "Self-immolation makes authorities—both democratic and totalitarian—nervous," the Guardian UK observed earlier this year. "To some, death by fire is the ultimate negation of individual agency, a futile act of aggression against the self. But self-immolation inspires in others a belief that individual suffering can set in motion changes far greater than one horrifying death." Perhaps a dozen self-immolations have occurred in Việt Nam, since the 1970s. Currently, Bà Đặng Thị Kim Liêng's self-immolation is still making its impact, with the full political or social outcome not yet known, besides the statement issued by the U.S.(recommending the release of Ta Phong Tan and two other bloggers) and besides an apparent "investigation" into her death and the postponement of the bloggers' trial. And although writers around the world will certainly produce more in-depth editorials in the coming days and weeks, we are reprinting below the most widely-distributed Associated Press article about Bà Đặng Thị Kim Liêng's political suicide.
Julie Thi Underhill
managing editor
diaCRITICS

VIETNAMESE BLOGGER'S MOTHER DIES AFTER SETTING HERSELF ON FIRE AHEAD OF DAUGHTER'S TRIAL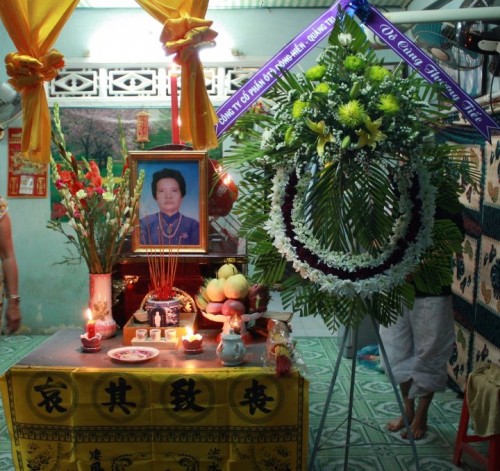 Bà Đặng Thị Kim Liêng's funeral
HANOI, Vietnam (AP) — The United States expressed deep concern and sadness Wednesday over the self-immolation of the mother of a prominent Vietnamese blogger and called on the communist government to free her daughter and two other writers facing trial.
A police officer in the southern province of Bac Lieu said Tuesday that 64-year-old Dang Thi Kim Lieng died Monday afternoon on the way to the hospital in Ho Chi Minh City after setting herself on fire that morning. Her death was not reported in state-controlled media.
Lieng's daughter, Ta Phong Tan, is a former police officer who wrote Cong ly va su that(Justice and Truth), a blog that addressed social justice issues. She was arrested last September on charges of conducting propaganda against the state.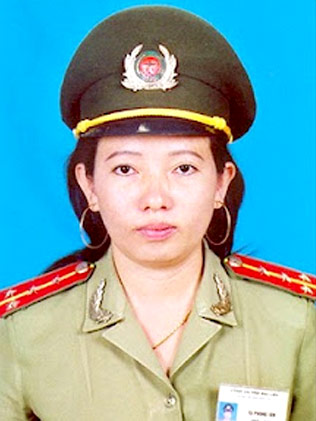 Blogger Ta Phong Tan, a former police officer
The U.S. Embassy said in a statement that it was ''deeply concerned and saddened'' to hear of Lieng's death and it called on the Vietnamese government to release all three bloggers immediately.
Lawyer Ha Huy Son said Tuesday that Tan and two other bloggers are scheduled to be put on trial Aug. 7. All three belong to the outlawed Free Journalists Club and stand accused of posting and writing hundreds of articles that ''distorted and opposed'' the communist government.
If convicted, the three face up to 20 years in prison.
The other bloggers are Nguyen Van Hai, known as Dieu Cay, and Phan Thanh Hai, known as Anhbasg. They were arrested in 2008 and 2010, respectively, on the same charges as Tan, and in addition they stand accused of attending a nonviolence training course aimed at overthrowing the government.
Although Nguyen Van Hai finished serving a 30-month sentence for tax evasion in October 2010, he has not been released.
On a visit to Hanoi this month, U.S. Secretary of State Hillary Rodham Clinton mentioned the Free Journalists Club while saying she remains concerned about a lack of online freedom and the jailing of Vietnamese journalists, bloggers, lawyers and dissidents for peaceful expression.